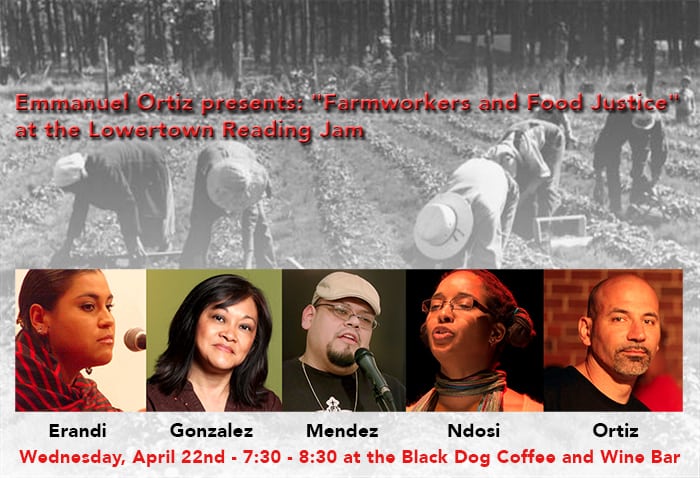 Featuring: Gabriela Erandi ♦ Marlina Gonzalez ♦ David Mendez ♦ Mankwe Ndosi ♦ Emmanuel Ortiz
Lowertown Reading Jam will be presented on Wednesday, April 22, from 7:30 to 8:30 p.m. at the Black Dog Coffee and Wine Bar, 308 Prince Street in Saint Paul. All ages, no cover, donations welcome. Food and beverages for sale.
On the eve of the anniversary of the death of Cesar Chavez, one of the most iconic figures in the fight for farmworker justice in the United States, we honor the lives and work of farmworkers, and celebrate the struggle for workers' rights and food justice. The poets featured each have an organic relationship to the issues, some of them being descendants of farmworkers, some doing food justice work. All of them use art to tell the stories and change the world.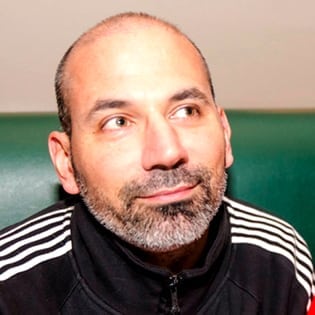 Emmanuel Ortiz is a Chicano/Puerto Rican/Irish-American community organizer and poet, and the grandson of migrant farmworkers. He believes art must be an integral part of the struggle for liberation and social change. He is a founding member of the Minnesota-based Latina/o writers/poets collective Palabristas: Latin@ Word Slingers, founded in 2002. He has authored two chapbooks of poems, The Word Is a Machete: Post-Pocho/Puerto Rican Poems of the Personal and Political (self-published in 2003) and Brown unLike Me: Poems from the Second Layer of Our Skin (Calaca Press, 2008). He also co-edited Under What Bandera? Anti-War Ofrendas from Minnesota y Califas (Calaca Press, 2004).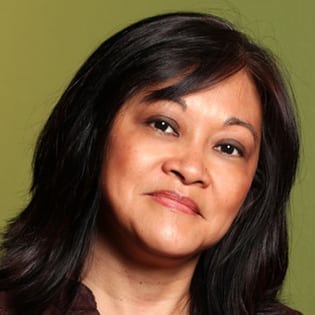 Marlina Gonzalez is a curator and consultant who works in theater, media, and new media. In 2009, after leaving her post as Programs Manager of Intermedia Arts, Marlina began focusing on creating her own work in theater and media arts. In 2010, she was named as one of The 100 Most Influential Filipinas in the U.S. as an Innovator and Thought Leader by Filipina Women's Network (CA). Harnessing her valuable network and curatorial experience with the Walker Art Center, Intermedia Arts, and Asian CineVision (NY), Marlina developed a touring multimedia art exhibit entitled Instructions For Peace, at University of Minnesota's Katherine E. Nash Gallery in 2011. In 2012, she received a Joyce Foundation Award in Theater to be one of three playwrights for Latino/Asian Fusion, a new collaboration between Pangea World Theater and Teatro Del Pueblo. Her play-in-progress, Isla Tuliro, is inspired by an earlier fable/play she wrote, entitled Ang Leon, Ang Agila At Ang Mga Daga (The Lion, The Eagle and The Little Rats). She holds a B.A. in broadcast communication from the University of the Philippines and an M.A. in communication from the University of North Texas.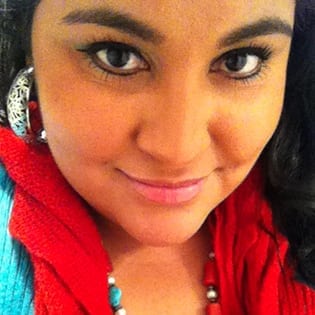 Chicana poet Gabriela Erandi is a graduate of Stanford University and a Ph.D. candidate in the Department of Comparative Ethnic Studies at U.C. Berkeley. Her anti-war play, G.I. Jose, was staged and directed by Cherrie Moraga at Stanford University in 2003. Gabriela toured the country as a performer with INCITE's Sisterfire! Cultural Arts Tour for Radical Women of Color and has been a featured poet at the Palace of Fine Arts in Mexico City numerous times. Her poetry has been published in various anthologies including: Poesia mexicana en la frontera norte (Spain: 2011), Turtle Island to Abya Ayala: an Anthology of Native American and Latina Women (San Francisco: 2011), Sing: Poetry from the Indigenous Americas (Tucson: 2011), and Love Rise Up: Poems of Social Justice, Protest, and Hope (Hopkins: 2102). Gabriela was the first-place winner of the Xochiquetzalli Award for Native/Chicana Women's Poetry in 2008.
A Lowertown Reading Jam veteran, Mankwe Ndosi works the Twin Cities, Chicago, and internationally as a musicmaker and cultural catalyst. She weaves performance genres including improvised music, acapella rhythm and harmonies, hip-hop, afro soul, dance, performance art, and sung prayer/ritual. She infuses creative practice into healing, sustainable economic development, education, and new village community building.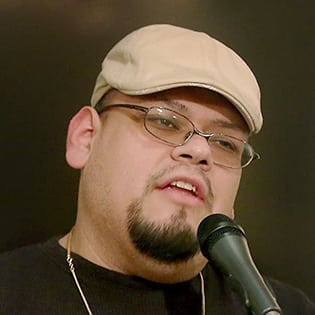 David Mendez was born in Minneapolis and raised on Saint Paul's West Side, where he learned to find ways to mix the cultural and political into his work. He is inspired by his blue-collar immigrant community and family history, and in collaboration with movements. He believes that art in words and other faces can bring people together. Through his travels throughout the Americas, his dream is to not only share his words, but to inspire others to find and speak their truth.