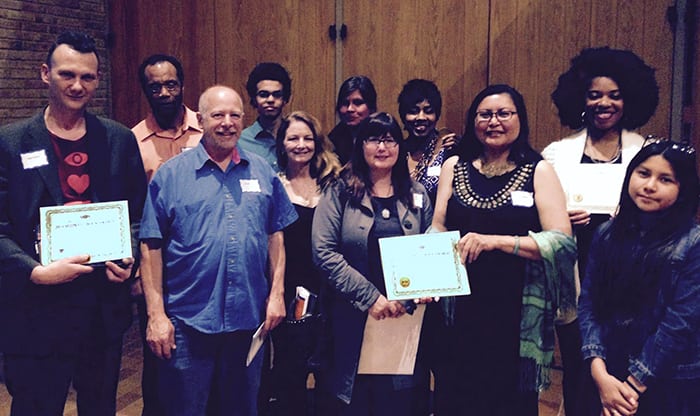 The Saint Paul Almanac has done it again. We have come away with another Midwest Book Award, this year in the Reference category. It is another cause for celebration and congratulations to all of us whose toil and heart have gone into making the book a Capital City institution. There are a lot of other things to celebrate around town. You can find a lot of them in the Almanac arts and culture calendar. As usual, we will talk about some of them here. Hopefully, we will have some sun and warmth to greet the experience.
Words and Letters

Tuesday, May 19, will be the last Carol Connolly's Reading by Writers before taking July and August off. You will want to go, not because you will have to do without for a couple of months, but because Carol has, again, brought us a fantastic lineup. This month we have award-winning poet Jill Breckenridge, whose latest of her four books of poetry is Sometimes and whose memoir Miss Priss and the Con Man came out in 2011; award-winning and widely published poet Norita Dittberner Jax, who has several published books of poetry and whose work is included in 33 Minnesota Poets and To Sing Along the Way: Minnesota Women Poets from Pre-territorial Days to the Present; Carolyn Holbrook, a poet who was awarded Hamline University's Exemplary Teacher Award for her work as an instructor in creative writing and whose book Ordinary People, Extraordinary Journeys: How the St. Paul Companies Leadership Initiatives in Neighborhoods Program Changed Lives and Communities has been a gathering point for many in the nonprofit, human service and community development world since its publication; Stanley Kusunoki, teacher, poet, writer, arts advocate and musician who has taught poetry to children through summer camps and elementary school residencies sponsored by the Loft, S.A.S.E.: the Write Place, and the Perpich Center and who is currently the High Potential Teacher/Coordinator at Red Oak Elementary School in Shakopee; Lia Rivamonte, a visual artist working on her first novel, Shiny Dreams, who has been writing "unnoticed" in the Little Bohemia neighborhood of Saint Paul where she lives with her husband and a crane named Blue; Mary Jo Thompson, whose poetry has appeared in numerous journals as well as in Best American Poetry 2011 and whose first collection, Stunt Heart, will soon be published; poet Francine Marie Tolf, whose latest collection is called Joliet in my Blood and who is the author of two other poetry collections, five chapbooks and and a memoir.
As always, Reading by Writers is at the University Club, 420 Summit Avenue. A musical prelude will begin at 7 p.m. from Mary Scallen on violin and Jim Miller on flute. The reading starts at 7:30 p.m.
Eat Your Words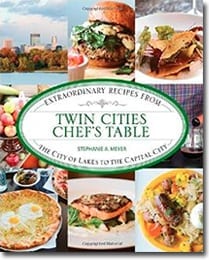 This week is time for food porn, as some of my former bookseller colleagues would like to refer to the massive wall of cookbooks that was always popular no matter what time of year. The culinary voyeuristic journey begins on Monday, May 18, at the Saint Anthony Park Library when local food writer and photographer Stephanie Meyer shares her new book, Twin Cities Chef's Table. The book takes us on a trip around the Twin Cities to some of our favorite and yet-to-be-discovered restaurants and shares recipes from many local chefs. Meyer is a writer and photographer, so you will enjoy the practical side along with a visual and tactile aesthetic with this collection. The Saint Anthony Park Library is at 2245 Como Avenue. The event starts at 7 p.m.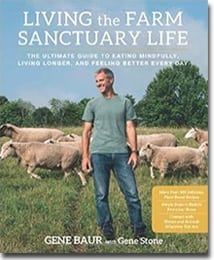 From the city table to the farm, we next go to Common Good Books, where Gene Baur presents his new book, Living the Farm Sanctuary Life: The Ultimate Guide to Eating Mindfully, Living Longer, and Feeling Better Every Day. We have a strong movement in Saint Paul, changing our relationship to food and how it is created, whether it is the work of Frogtown Farm, Seitu Jones' CREATE: The Community Meal, or the work of the Saint Paul Almanac Board Chair Metric Giles, we have a lot going on. On Wednesday, May 20, we look at another aspect of the discussion, as Baur brings us to talk about farm animals and the implications of how we relate to that part of food production and how it affects health. His book was blurbed by Joan Jett, whose first intersection with my adolescent psyche was on a much different plane, many years ago, so maybe that will pique your interest even more. Common Good Books is at 38 South Snelling Avenue. The reading begins at 7 p.m.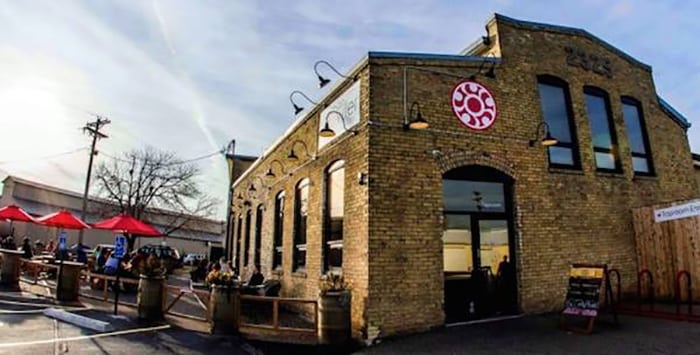 Didn't get your fill? Well, on Sunday, May 24, you can head down to the Urban Growler Brewing Company for… the May FREE Ice Cream Tasting. They even have special May flavors. Stop by from 5 to 8 p.m. They are at 2325 Endicott Street, just east of the Hampden neighborhood.Or maybe you can just head over to Como Park at Lexington and Horton for the Gingerbread Show, a craft show that might have some gingerbread, but will have a lot of other amazing stuff on display.
Music

For another year, Saint Paul is producing an even bigger Music in the Parks series. You can hear the widest variety of music from local talent in our city parks. Most of the shows are at the Como Dockside/Como Lakeside Pavilion, but there are shows at Kellogg Park, Mears Park , Merriam Park, Phalen Regional Park Amphitheater , Raspberry Island and Rice Park. Almost all the shows are free. Check the schedule and join us for some nice summer evenings and afternoons.
Years ago, a friend and a few fellow musicians had a standing gig where they played sea shanties with traditional instruments. You may not think you can sing, but everyone can sing a sea shanty. The tunes are simple, and sometimes soulful, and everyone is even more on pitch with a few glasses of grog or ale inside them. You can try it for yourself on Wednesday, May 20, when Bob Walser, Steven Levine, and the Eddies (Tom Welna, Mark Richardson, Phil Platt, Paul Martin and Chuck Lentz) come to Bedlam Theatre for Sailing Away: some deepwater, salty sailor songs. It's traditional music that is designed to help the shabbiest of souls endure a long, briny trip through the waterways of the globe. It will be fun, so head down for this 7:30 p.m. show. The songs are, like poetry, about love and death, but since they are shanties, they are about work too. Bedlam is at 213 East 4th Street across from the Union Depot.
The Black Dog Coffee and Wine Bar is helping celebrate the start of the Saint Paul Saints first season in Lowertown! It starts on Thursday, May 21, when Orkestar Bez Ime spins their Balkan tunes at the Black Dog Coffee and Wine Bar. This standing gig that happens every third Thursday is song, dance and a whirling party. The music starts at 7:30 p.m. The Black Dog is at 308 East Prince Street in Lowertown, kitty corner from the Farmers Market.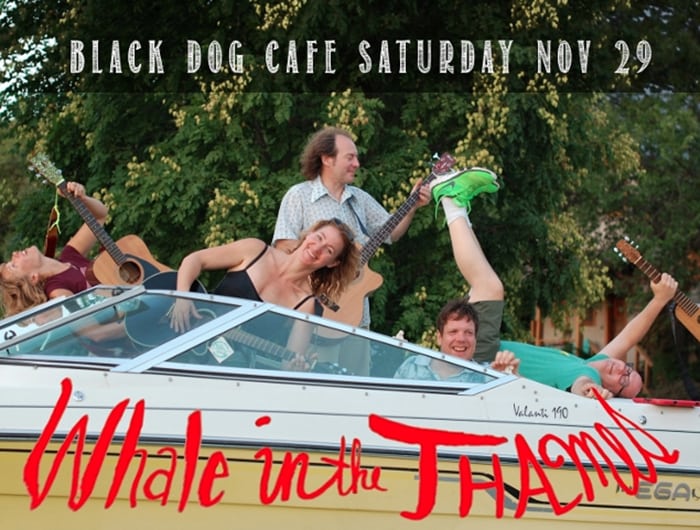 On Friday, May 22, there are two fun shows. First, Whale in the Thames comes to the Black Dog. They describe their sound as "Rock, Wood, Liquid and Love," a style they lace with "Songs Sung in French, English and Gibberish." They go on at 7 p.m.
At 9 p.m. that night, the Black Dog Stage will be occupied by the BZ3 Organ Trio. Brian Ziemniak on B-3 organ, Troy Norton on guitar and Pete Hennig on drums bring it to you with a high-energy funk. This is not your ballpark organ… or maybe it is. A while ago, one of the Major League ballpark's organists got in the habit of belting out a rendition of "Light My Fire" between innings. I would love to hear that again. She was great! Maybe the Saints would be so inspired.
Chris Granias' work has been used by people ranging from Forest Lake Middle School to the Saint Paul Chamber Orchestra His musical daring takes him through "asymmetrical meterstudy and simple improvisation techniques" and makes his work a perfect collaborative exercise with Douglas Ewart, who, along with Carei Thomas, will join Granias on Saturday, May 23. Studio Z hosts the three musicians as they explore new improvisations for two pianos and assorted instruments, including instruments invented by Douglas Ewart. The performance begins at 7 p.m. Studio Z is at 275 East 4th Street in Lowertown.
Stages

Last week, we told you about The Language Archive, the story of a linguist who is working against odds, pedestrian frustrations and love to decode a near-extinct language, playing at the Park Square Theatre. On Wednesday, May 20, get a chance to go Behind the Curtain with the production personnel of this play and the Friends of the Saint Paul Public Library. If you have not seen the play, you can also take advantage of half-price tickets to the show. This event takes place at the Merriam Park Library, 1831 Marshall Avenue, starting at 7 p.m.

Park Square has another show running on it's Boss Stage. The Sandbox Theatre brings it's production of War with the Newts to Park Square. Sandbox brings it's unique style of design in set and costume and it's movement and language to this 1936 sci-fi tale of corruption, selfishness and absurdism. It is a powerful rendition to an already powerful tale. Check here for tickets and showtimes. The production runs through May 30. Park Square is in the Historic Hamm Building, 408 St. Peter Street in Downtown.
River Road Boogie: The Augie Garcia Story is still playing at the History Theatre, but there is another musical to check out this week at SteppingStone Theatre.

Legacy! A Tribute to the King of Pop is a tribute show remembering and experiencing the life of Michael Jackson. SteppingStone brings back this amazing Vegas-like show that captures the genius of one of the greatest entertainers of all time. Performances start on Friday, May 22, and run through May 31. Check here for dates and showtimes. SteppingStone is at 55 North Victoria Street.
Happenings

Fashion does not originate nor live on the runways of New York City. What winds up on the runways and in our wardrobe lexicon often has it's inspiration and origin closer to the street. This week opens an exhibit at the Minnesota History Center that is one example of fashion sticking closer to it's origins. Inspiring Beauty: Fashion Show and Exhibit Preview is a gala soiree and original fashion show inspired by the legacy of Ebony magazine. The exhibit, "Inspiring Beauty: 50 Years of Ebony Fashion Fair," showcases 40 ensembles, and Robyne Robinson will emcee this stellar event for some stunning displays of adornment. Register here or call 651-259-3015 for tickets. The History Center is at 345 West Kellogg Boulevard. The event runs from 8 to 11 p.m.
The Saint Paul Almanac is happy to be an award winner once again for our award-winning city and people. Make sure you get out and celebrate. If you need a few more ideas, check the Almanac Arts and culture calendar. You will be glad you did, even if you feel bad about missing so many of the events. (It's okay to go OCD on this one, at least for most of us.) See you on the town, and have a great week.