It feels like summer. Shorts and ice cream and kids in the neighborhoods during the day. What will we do with ourselves? I don't know where to start, or maybe I do. Let's start with some summer reading.
Words and letters
On Tuesday, June 16, the Reading by Writers with Carol Connolly is special for a couple of reasons. First, it is the last reading in the series before its two-month summer break. Also, it is the Bloomsday edition featuring, as usual, some of the best writers in our very literate community. June 16, 1904, is the date that James Joyce chose as the backdrop for his iconic work Ulysses.
Paying homage to Joyce this evening include Milkweed Editions' co-founder Emilie Buchwald, whose poems and stories have been published in Harper's, Minnesota Experience, The American Scholar, Harper's Bazaar, The Kenyon Review, Great River Review, The North Country Reader, 25 Minnesota Writers, The O. Henry Prize Stories and other esteemed publications. James Crnkovich, author of Atomic America (Naciketas Press, 2015), specializes in social documentary and has an eye for the absurd, compassion for the common woman and man, and what he calls "a dogged delight in nailing to the proverbial floorboards that which is most important." Poet, actor and dancer Molly Culligan, whose showcased one-woman performances include one based on the work of poet Meridel LeSueur, has performed in Ireland, St. Lucia, West Indies, and Argentina. Franklin Knoll, a poet who served 10 years in the Minnesota House and Senate and 18 years as a trial judge in Hennepin County, bases many of his poems on his experiences as a judge. Poet, memoirist, writing teacher, and literary critic Madelon Sprengnether's most recent books are Great River Road: Memoir and Memory and Near Solstice: Prose Poems. Journalist Dan Sullivan has written for the Red Wing Republican Eagle, the Pioneer Press, the Star Tribune, The New York Times, the Los Angeles Times and other publications and is married to novelist Faith Sullivan. The presenters will read at the regular place, the University Club, on this not-so-regular day. The Club is at 420 Summit Avenue. Music by violinist Mary Scallen and flutist Jim Miller begins at 7 p.m. and the reading is at 7:30 p.m. Some writers will have books for sale on site.
On Wednesday, June 17, it is a celebration of books, neighbors, and bringing communities together around shared literature as the Union Depot waves the fanfare with its Little Free Library Launch. Maybe you have interacted with a secret neighbor when you took or left a tome or pulp fiction in one of these treasure troves in your neighborhood or a place you have visited. The event takes place in the Depot's Waiting Room from 11 a.m. to 1 p.m. and includes activities for everyone.

Also, the Union Depot has hosted a big Game Night for the past many months. It is changing and is now called Games Galore and will take place from 10 a.m. to 8 p.m. each Wednesday. Plus, Ten Thousand Villages is hosting a fair trade pop-up festival with goods handmade by global artisans, held Wednesday, June 17, through Friday, June 19, from 11 a.m. to 2 p.m. each day.
We have been waiting to see the new SubText Bookstore and are excited for this new space to open, another indicator of the resurgence of the American independent bookstore. Also on Wednesday, June 17, prolific mystery writer David Housewright will be at SubText to read from his book Unidentified Woman #15. Housewright's reputation precedes him, and I know that many people will follow him to SubText. Join the crowd and welcome the new space. Note the new start time for the new location and for this reading, 6:30 p.m.. SubText is now located at 6 West Fifth Street in downtown.
The Black Dog has been known as a place where artists combine spoken word and music. In the past, these artists have been Lisa Brimmer with High Society and more recently, Almanac's own Lowertown Reading Jams. On Wednesday, June 17, it will be RhizoPoetry! The "mostly improvisational band" Rhizosphere will be backing three amazing Saint Paul poets, Hawona Sullivan Janzen, Kathryn Kysar, and Lynette Reini-Grandell, who will read and sing selections from their poetry. The gravity of the works of these poets are met nicely by a band whose work crisscrosses genres to find the best fit for the moment. They start at 7 p.m. The Black Dog Coffee and Wine Bar is at 308 East Prince Street.
Getting Out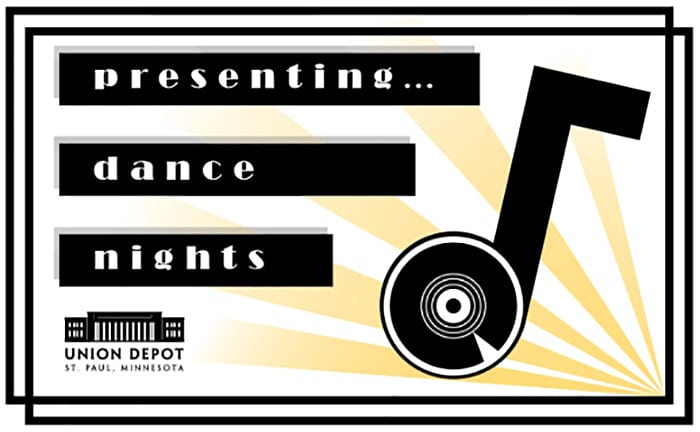 It is not just the festivals that are getting us outside these days. There are a lot of activities to keep the blood flowing through the veins of Saint Paul. Get the blood flowing through your own veins to start the week this Monday, June 15, with Dance Night at the Union Depot, with this week's featured dance being the tango! Start with a half hour of free tango lessons at 6:30 p.m. Then, spin with your new dance feet (or old ones if you are already an expert) to the music of violinist Sara Pajunen, accordionist Patrick Harison and bassist Nick Gaudette, who play mostly Argentinian tango music and, in case you didn't know it existed, a small hint of Finnish tango as well. You will have to ask the artists about the Finnish tango. (My eyebrows are raised for the moment.) The Union Depot is at the end of the Green Line, 214 East Fourth Street in Lowertown.

You might want to hang out in Lowertown on Wednesday evening for the Saint Paul leg of the North Star Grand Prix, part of the North Star Bicycle Festival. Hang out near Mears Park to see some fast, sleek machines and bodies in a couple of featured races. A bike expo begins at 4:30 p.m. followed by an elite amateur race at 6:15 p.m. There is a kids' fun race at 7:15 p.m. and a pro/elite race at 7:45 p.m. This is a different kind of Lowertown action but worth checking out. Mears Park is at 221 East Fifth Street.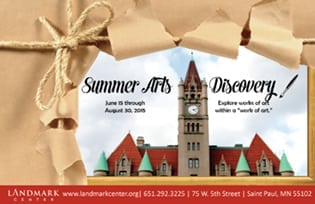 On Thursday, June 18, depart from the static of the gallery experience as ten local artists transform some of the lesser known corners of Landmark Center to create an evolving installation, Summer Arts Discovery. Experience artists in action throughout the summer months and watch as a new art installation unfolds in Landmark Center. This exhibit is a series of installations and demonstrations throughout the summer that include a couple of my favorite artists. The full list includes Mayumi Amada, Mohamed Barre, Bailey Cahlander, Kyle Fokken, Wing Young Huie, Nooshin Hakim-Javadi, Barbara Benson Keith, Anna Metcalfe, Joonja Lee Mornes, Erin Paradis, Denise Tennen and Amara Hark Weber. This exhibit includes scheduled tours as well as self-guided opportunities to interpret the featured works, but the endless world of possibilities here defies imagination. The opening reception is Thursday, June 18, from 5 to 7 p.m. You will have the days between June 15 and August 30 to wrap your mind around this experience. It is worth a few trips, and you may find out what I mean when I say, "These boots are made for more than walking."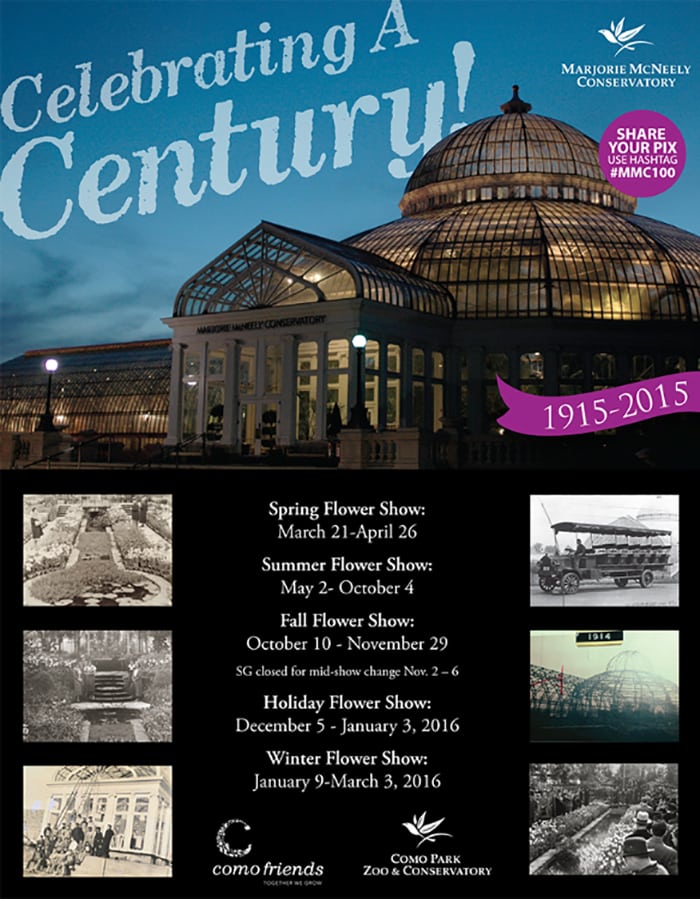 Has it been 100 years already? It seems like we've just met. Well, to be fair, relative to the century of history that the Como Conservatory has lived, most of us are in the spring of our acquaintance. Since we haven't known the conservatory from the beginning, the folks at Como are giving us a lesson along memory lane and a chance to celebrate one of Saint Paul's lasting treasures. The 100th Anniversary of the Marjorie McNeely Conservatory is an all-day celebration. Starting Friday night, join in festivities that include strolling musicians, a Como trivia contest, crafts, gardener talks, and a chance to make your own Como "Memories in a Minute" video. Friday night will be special. They will have indie, world fusion, chamber pop band i like you, followed by a screening of the rock musical horror comedy Little Shop of Horrors. Also, a special treat is that they are lighting the Conservatory dome purple. There is a lot to see and hear. It's all day from Friday, June 19, through Sunday, June 21. The Como Conservatory is at 1225 Estabrook Drive.
Another good chance to get your blood circulating happens at the Minnesota Museum of American Art as BodyCartography presents CLOSER. This is a participatory event. You will become, if you are not already, a contemporary dance artist. You can move your body through Lowertown in collaboration with a dance artist from BodyCartography. Challenge yourself and explore through this experience what it feel like to be present with a complete stranger and other questions of presence, space and relationship. Or maybe you just want to be a witness/audience member. Head down. The event will start outside the doors of the MMAA project space, 141 East Fourth Street, at 11 a.m.. If you want to dance, space is limited, so show up early. Or just look for bodies in motion in Lowertown.
Tunes
Maybe it's time to start talking about music. There is a lot of it this week.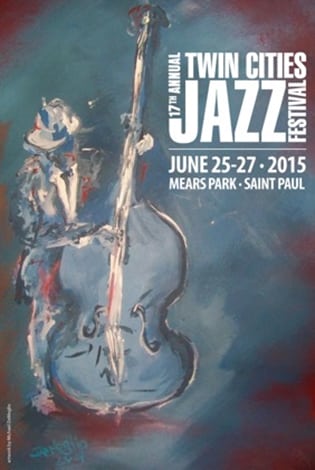 The Twin Cities Jazz Festival is just around the corner. The Saint Paul Public Library is warming up the jazz-o-sphere with a few concerts this week in a mini pre-Jazz Festival. On Tuesday, June 16, the Sun Ray Library (2105 Wilson Avenue) will feature the bossa nova, samba, and Afro-Brazilian jazz fusion band Ticket to Brasil. Good Vibes Trio brings to the Hamline Midway Library (1558 West Minnehaha Avenue) the free-style jazz of bassist Chris Bates, Dave Hagedorn, and drummer Phil Hey on Wednesday, June 17. Both shows are at 6:30 p.m. On Sunday, June 21, the George Latimer Central Library (90 West Fourth Street) hosts the Francisco Mela Trio, featuring Cuban jazz drummer Francisco Mela joined by Mary Louise Knutson on piano and Graydon Peterson on bass. Sunday's show is at 2 p.m.
Groovin' in the Garden continues this week with Dan Israel and the Cultivators in the Visitor Center Courtyard at Como Zoo (1225 Estabrook Drive) with another free summer outdoor concert. They start at their usual 6 p.m.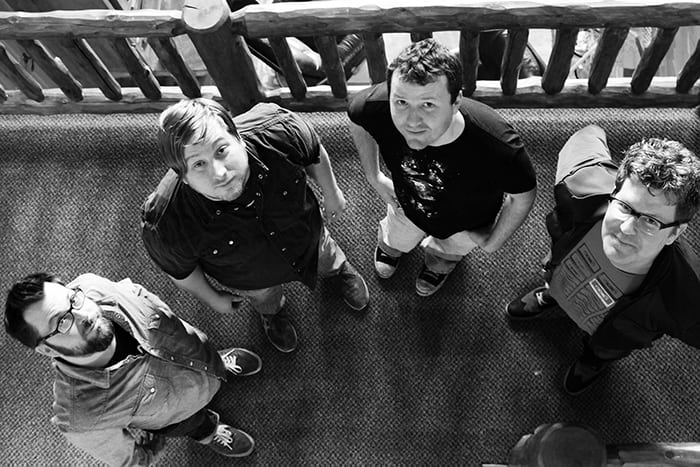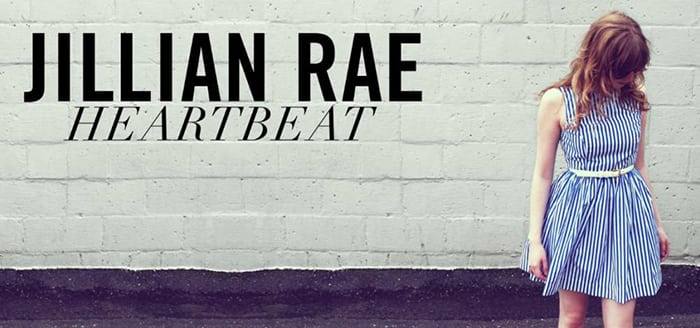 Music in Mears continues on Thursday, June 18, with power pop supergroup Pasadena '68 and multitalented violinist, lead vocalist, and songwriter Jillian Rae as well as a caravan of food trucks. Mears Park is at 221 East Fifth Street in Lowertown.
A very different tune will sound at Lake Phalen Park that evening, Thursday, June 18, as Minnesota Sinfonia presents flamenco guitarist Tony Hauser, who will perform works from Antonin Dvorak, Antonio Vivaldi, Franz Joseph Haydn, and his own composition "Alegrias." Sinfonia describes Hauser as "rooted in the classical tradition," exploring Spanish flamenco, Latin-American, ethnic and new music. This promises to be a dynamic program. Lake Phalen Regional Park is at 1615 Phalen Drive on the East Side. The concert begins at 7 p.m.
On Friday, June 19, Lowertown favorite Hot Date opens for Anonymous Choir at Public Kitchen + Bar. Anonymous Choir is a collection of women who could be called a choral group but are more characterized as women who love music and women who make music. Hot Date is … Hot Date. The show starts at 8 p.m. Public Kitchen is at 229 East Sixth Street.
Fests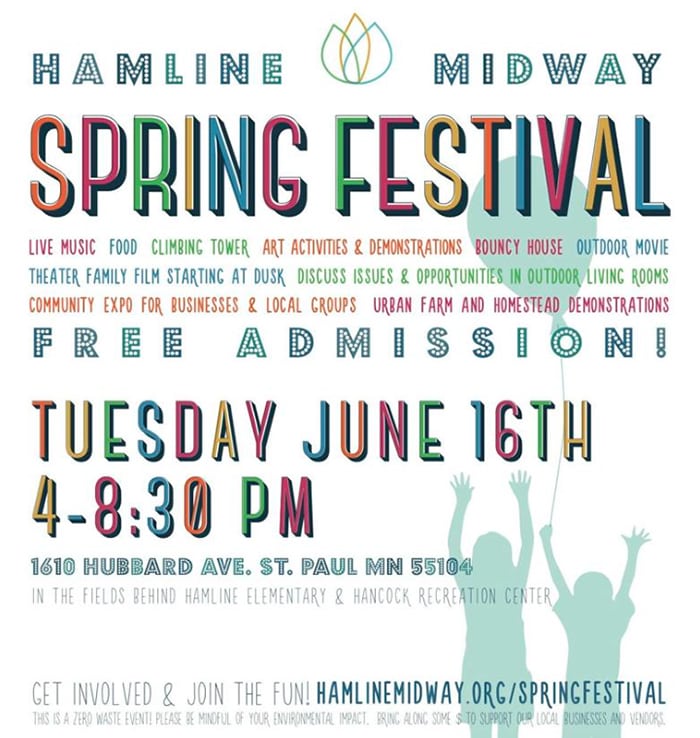 This week's festivals start off with a midweek event at Hancock Recreation Center that offers some interesting activities, an amazingly strong musical lineup, and a movie. The Hamline Midway Spring Festival features a climbing tower, a bouncy house, art activities, face painting, games, and human foosball presented by Can Can Wonderland.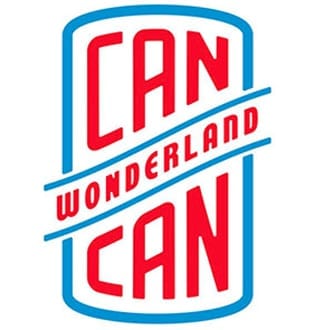 There will be information for small businesses, recycling, and other community opportunities. Here is the really cool music lineup:
Tipper Road (upbeat Irish music) 4:00 to 4:45 p.m.
Erik Brandt & the Urban Hillbilly Quartet 4:50 to 5:35 p.m.
Babatunde Lea (African drumming) 5:40 to 6:10 p.m.
Mira & Tom Kehoe & Friends (jazz & Brazilian) 6:15 to 7:00 p.m.
Maliya Gorman-Carter (juggling, etc.) 6:15 to 7:00 p.m.
Liz Lassiter 7:05 to 7:30 p.m.
Ashley DuBose (a contestant on "The Voice" whose album was recently released) 7:45 to 8:30 p.m.
The night ends with a screening of "Paddington." Now that school is out, this is a great way to have fun in the middle of the week. Hancock Rec Center is at 1610 Hubbard Avenue.

Porky's may be gone, and the not-so-long-ago days when the mid-20th century hot rods spent a few days each summer rumbling past the checkered facade on University Avenue are past, but there are some locals who are keeping the tradition alive. This weekend, the Minnesota Street Rod Association brings us Back to the '50s, a show of the coolest cars from our fathers' and grandfathers' eras. You can check out the rods and their bods at the Minnesota State Fairgrounds. Look under the hoods and maybe join the crowds along Snelling Avenue all weekend to watch the parade of hot cars. The event is Friday and Saturday, June 19 and 20, from 8 a.m. to 10 p.m. and Sunday, June 21, from 6 a.m. to 3 p.m. There will be cars for show and for auction and a lot of other activities. The fairgrounds are at 1265 North Snelling Avenue.

Also starting on Friday, June 19, is this year's GermanFest. Unlike Oktoberfest, this event is more about German and German-American culture than it is about beer. It is for the whole family. There will be beer, but there will also be an opportunity to get to know German culture through food, music, dance, art, education and other activities. The folks at GermanFest say it is "Sausage, Beer, and more Lederhosen per square foot than the fashion police will allow." This is the second year of this festival that was more popular than they would have imagined. It will again be held at the Schmidt Artist Lofts, 882 West Seventh Street. The fun starts at 4 p.m. on Friday and goes until Sunday afternoon.

Another hugely popular and important festival is Twin Cities World Refugee Day. Refugee Day, celebrated around the world, is a day that has been designated by the United Nations. In the Twin Cities, it is a celebration of "stories, arts, and cultures of the 110,000+ refugees in Minnesota and the diversity of cultures, experiences and assets they bring to our community." Saint Paul has an incredible, strong, and dynamic refugee and immigrant population whose artistic and cultural stories and voices tell tales from around the world. This event tells a strong Saint Paul story, one of an emerging Saint Paul as well as a reminder that we are a city of immigrants. The event this year will be held at the Arlington Hills Community Center, 1200 Payne Avenue, on the city's East Side from noon until 5 p.m.
Stages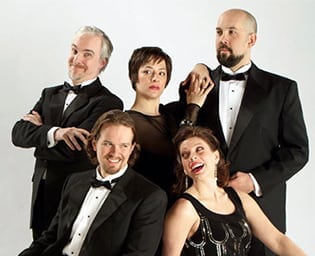 Skylark Opera is still running its two shows, Sondheim's Putting It Together and Puccini's La Rondine at Concordia University. Cromulent Shakespeare's Henry IV, Part 1: The Tale of Prince Hal & Sir John Falstaff has one performance this week at Newell Park at 900 North Fairview Avenue on Thursday, June 18, at 7 p.m. Other stages are busy as well.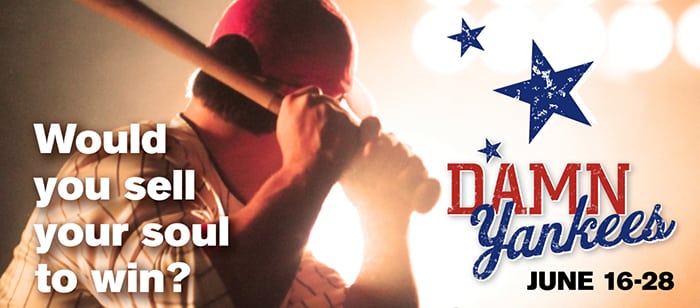 "First in war, first in peace and last in the American League" was the slogan that stuck like toilet paper on a shoe to the nation's capital's first major league baseball team, the Washington Senators. Some might say that their losing record was due to a curse, kind of like the Boston Red Sox drought of World Series titles cast as a result of trading Babe Ruth. In this case, the hex was not signing Fidel Castro when he tried out for the team in the 1950s, thus changing the politics of the Western Hemisphere for the next three generations. Okay. Maybe not. The futility preceded the Castro episode, but we can dispose of the linear thinking to contemplate this possible spell.
We are still working the magic. Lola comes to town, and it is only appropriate that she come here, to the Twin Cities, five decades after the first Senators uprooted themselves to become the Minnesota Twins. That desertion and this month's production at the Ordway gives us another excuse to utter, "Damn Yankees!"
See this classic story about a man teased by hopes of youth, pursuing success for his beloved team, and challenged by love. This tug of war and peace pits the devil against a matrix of fates. See which one wins. Damn Yankees is running at the Ordway June 16 through June 28. Check here for dates and showtimes.
We have already found a lot of fun for kids and families with this week's festivals and events at the Union Depot. The Saint Paul Public Library continues its Summer Spark with everything from jugglers and puppets to animals, music and magic events. Maybe we just need a rest.
Did I leave anything out? Of course I did. It is a full summer. Find out what on the Almanac's arts and culture calendar or, as always, follow the cool kids.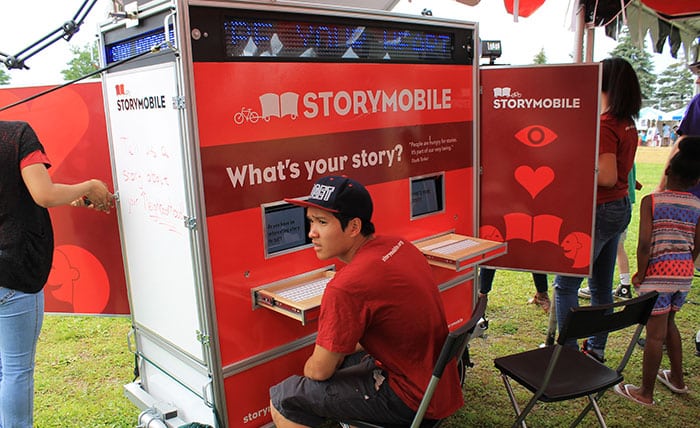 Oh, and one more thing. It's that time of year to start looking out for Storymobile. Remember it from last year? Need to have your memory refreshed or maybe you need a wonderful introduction? Look at this great video by Hlee Lee and keep your eyes open for the rolling archiver.
Have a great week. See you on the town.