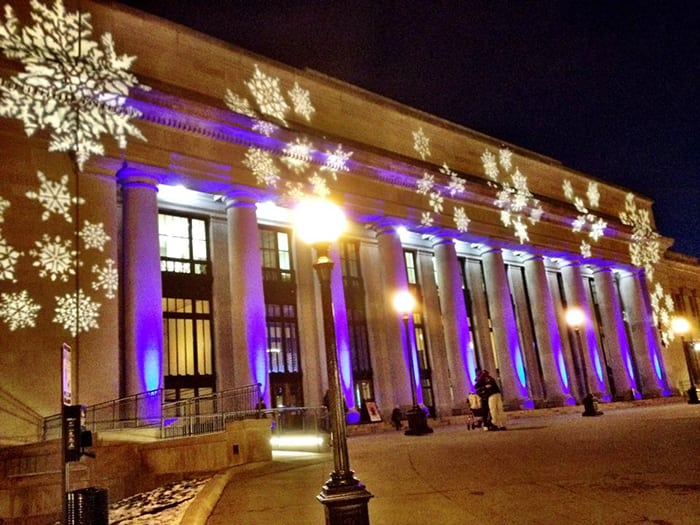 Almost a month late, a thin version of the winter blanket has come to the landscape. Shifting landscapes met changing climates that days later gave me the opportunity to be outside in a strange December balm. Whether the weather is behaving correctly or not, we can get cozy with the words, images, and company that is a salve and celebration for the days. There are more than a few opportunities to join the season's crowd.
Almanac Family
Today, Monday, December 7, is our twelfth and final reading in this season's literary fest celebrating Saint Paul Almanac: A Ten-Year Retrospective. We will be at the Dow Art Gallery with a great lineup of readers headed by Heid Erdrich. She is the author of four poetry collections, most recently Cell Traffic: New and Selected Poems, and of Original Local: Indigenous Foods, Stories, and Recipes from the Upper Midwest, a 2014 City Pages Top 10 Food Book. Heid is joined by Amy Clark, who describes herself as a "mother, wife, artist, teacher, writer, athlete, student, singer, reader, caretaker of many animals" and whose works include colorful depictions of Saint Paul landmarks that are delightfully vivid and abstract; Jennifer Bangoura, an English teacher and mother who loves language, is chock-full of wit, witticisms, and puns, and spends her spare time reading short stories and watching classic films; Kimberly J. Brown, a survivor of the 2007 I-35W bridge collapse whose work gravitates toward realities of life after trauma and has been published in Rock Paper Scissors, Sleet Magazine, and Seeds from a Silent Tree: An Anthology By Korean Adoptees; Krisanne Dattir, a sometimes aerialist, an award-winning poet who has been published in various print and online venues, and an avid gardener; Gayla Ellis, who has worked in several Downtown Saint Paul law offices and much prefers that scene to that of Downtown Minneapolis; Jim Bour, whose influence on his grandchildren often generates dismay from their parents and who tells many stories, some of them true; and Greg Watson, who has two books of poetry, What Music Remains and All the World at Once, and whose work has been featured on The Writer's Almanac. This final reading of the Saint Paul Almanac 2015 Literary Festival takes place in a wonderful space, the Dow Gallery, located at 2242 University Avenue. Take the Green Line if you like. The reading starts at 7 p.m.
Use Your Words

Wednesday, December 9, is not the first wintery Wednesday on which Anna George Meek has read at SubText Books. This time, in the Downtown location, Meek will be joined by poets Katrina Vandenberg and Kathleen Jesme for the launch of her new collection of poetry, The Genome Rhapsodies. It is not that she needs the help. Meek is an accomplished vocalist, violinist, and three-time finalist for the National Poetry Series, as well as a Minnesota Book Award finalist. She is a master of allegory, image, and wonder. Catch a few visions at the bookstore on Wednesday at 6 West Fifth Street at 7 p.m.

If you have seen or experienced or heard of an art or writing program in a local school or community center or youth program, chances are it was staffed by a COMPAS artist. For four decades, Community Programs in the Arts has been working with students and communities to engage artistic expression and speak their voices. On Saturday, December 12, the arts program will hold a Celebration & Reading of COMPAS' 36th Anthology of Student Writing. Young authors will read their pieces aloud while the community applauds the best writing by K-12 students in the state. Each piece in this anthology was created by a Minnesota student while participating in one of this year's COMPAS residencies. The event will be at Landmark Center in Downtown from 1 to 3 p.m. Landmark Center is at 75 West Fifth Street across from Rice Park.
(Also, if you appreciate the work of COMPAS, you might want to show the love at Celebrating a World of Creativity: A Gala Dinner in Support of COMPAS. Keep people across Minnesota connected to arts and culture from around the world. The event is at Dove Hill, the home of Nancy and Dick Nicholson, 260 Summit Avenue, on Thursday, December 10, at 6 p.m. Check here for tickets.)
Stages
This week you can still see productions of Penumbra's Black Nativity, The Best Christmas Pageant Ever! at SteppingStone Theatre, Minnesota Jewish Theatre Company's The Chanukah Guest, Edgar Allan Poe's Nutcracker (the un-ballet) at Interact Theater, and Buddy: The Buddy Holly Story at History Theatre. This week also brings a few more things to look at.

Thursday, December 10, marks the opening of The Abraham Play at Bedlam Theatre. This production is the first in a five-part series being created using a process that borrows from the same wisdom that created the Almanac's community editor process. The in[HEIR]itance Project brings together community members to interrogate the narrative of a matriarch or patriarch from the book of Genesis, this time Abraham, a story vital to world religions and essential to Judaism. For this first installment, playwright Jon Adam Ross engaged the community with text study, workshops, and the collection of stories and insights from the Twin Cities Jewish community. This brings a fresh, modern, real-person voice to an old story. Shows are Thursdays, Saturdays, and Sundays at 7:30 p.m. through Sunday, December 20. Bedlam is at 213 East Fourth Street in Lowertown.
Music
There is a lot of music this week. It is hard to choose where to send you readers. This week continues McNally Smith's Emerging Artist Series with several shows and many times more musicians in venues around town.
On Wednesday, December 9, check out a great show curated by Brittany Lynch and Toki Wright called The Feel Good Revolution at Vieux Carré. They describe the gathering as "a space for art, entertainment and healing to become synonymous." Local emerging artists perform short pieces of original art and "share their personal ways of finding happiness." This month's offering come from artists S'sence Adams and Baby S'sence, Andrea Jenkins, Niles, Kiesha Lamb, Pauline Johnson, Louis Alemayehu, Camille McCalister, Adrienne Ero-Phillips, and Precious Wallace. The performers will be backed by the band Joe Davis & The Poetic Diaspora. Join hosts Miss Brit and Joe Davis for this great warm live space of song and spoken word. Your ears and heart will enjoy the treat. (The cover is only $5, too!) Vieux Carré is at 408 St. Peter Street in Downtown. If you show up by 8 p.m., you will not miss anything.
What better cover can there be than "free"? The Schubert Club features its Courtroom Concerts as lunchtime previews at Landmark Center. On Thursday, December 10, Flying Forms presents A Baroque Christmas with Marc Levine on baroque violin, harpsichordist Tami Morse, soprano Carrie Henneman-Shaw, John West on recorder, Phillip Rukavina playing lute, and Donald Livingston on baroque harp. Landmark is at 75 West Fifth Street in Downtown, and the performance starts at noon. Flying Forms will be in its Baroque Room space later in the week, Saturday, December 12, at 8 p.m. and again on Sunday, December 13, at 3 p.m., with the full program that features traditional carols, Renaissance and baroque classics, and other holiday favorites. The Baroque Room is at 275 East Fourth Street, Suite 280, in Lowertown.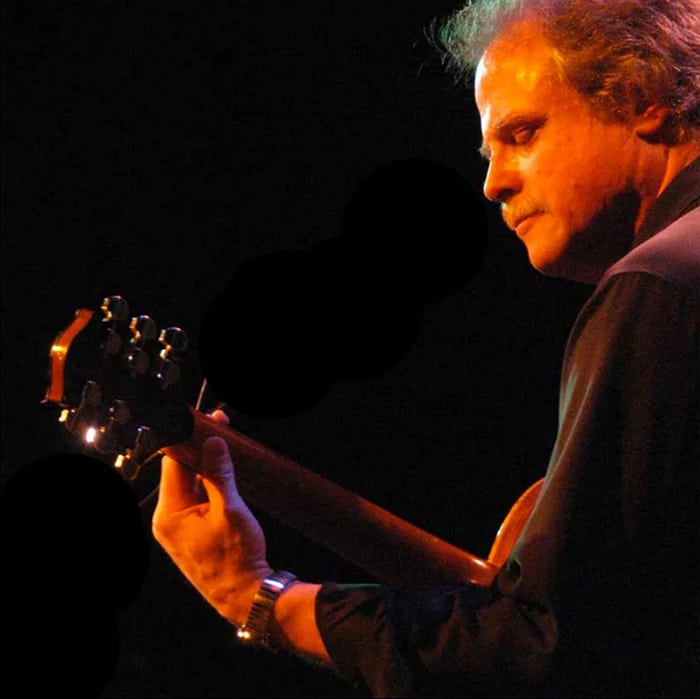 On Thursday, December 10, check out legendary Grammy-winning fingerpicker Pat Donohue at Golden's in Lowertown. He is witty and talented, and you might just recognize him as the lead guitar player and songwriter for the Guy's All-Star Shoe Band or because his instrument chases after some of America's best music traditions. Donohue will be joined by the Prairie All Stars at 7:30 p.m. Golden's is at 275 East Fourth Street.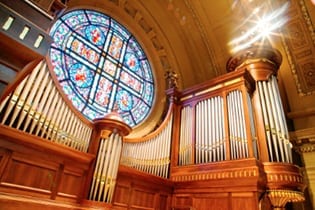 Have you wondered what the organ at the Cathedral of Saint Paul sounds like? You will get your chance, or get to hear it again, when Steven C. Anderson fills the historic cathedral with a big Christmas sound in a one-night-only free concert on Thursday, December 10. Anderson has performed and recorded with the likes of Mannheim Steamroller and the London Symphony Strings. He will send traditional and original works through the big pipes. The concert starts at 7:30 p.m. The cathedral is at 239 Selby Avenue, at Summit Avenue.

It is the season, and there are three great opportunities to hear choral music. On Friday, December 11, Chapel of St. Thomas Aquinas at the University of St. Thomas will be the venue for Christmas with Cantus. Cantus sets the season's tone with holiday favorites, Biebl's beloved "Ave Maria," and music from across five centuries. St. Thomas is at 2115 Summit Avenue.

On Saturday, December 12, experience the powerful sounds of new music as the Mila Vocal Ensemble and Natalie Nowytski present a very special performance of Nowytski's thirteen Ukrainian folk songs, set to the poetry of Nadia Lan in a production of Perekotypole, encore! In 1978, Lan compiled decades' worth of her poetry in a collection called Perekotypole, loosely translated "Tumbleweed," a metaphor for the Ukrainian culture, especially those who have emigrated. These poems, dating as far back as the 1920s, are met with Nowytski's sounds influenced by sources as diverse as Ukrainian to Balkan to Central Asian, and even American bluegrass. This free concert is at Unity Church–Unitarian, 733 Portland Avenue, at 4 p.m.

Follow these experiences with the annual concert of Kantorei: Season 28. Kantorei is one of the premier choral ensembles in Minnesota, known for its interpretation of European choral music, including seldom-heard Romantic pieces, sacred masterworks, and Austrian and German folk melodies. These great singers are all professionals at something else but make space for this love and craft. Sunday's concert is at 4 p.m. at the Saint Paul Seminary, 2260 Summit Avenue.
This week is full of much, much more. Take a look in our Almanac arts and culture calendar. Share it with friends and strangers. Then go out and have an excellent week. See you on the town.
Makers and Doers
What are you doing this summer? Springboard for the Arts has announced a call for artists for a placemaking initiative to celebrate the African American legacy of Old Rondo. Are you a Black artist who has an idea for a placemaking or arts event that engages either the Rondo community or its history? Sign up for one of four artists' workshops called Roots of Rondo: Black Artists Rising. You don't need to be the next Gordon Parks or August Wilson or even spin jazz at Selby and Milton. The first workshop is Saturday, December 12, with two more in the following months, but you need only attend one. Locations vary depending on date. These are all-day workshops, starting at 9 a.m. Sign up here and find out where it's all happening.