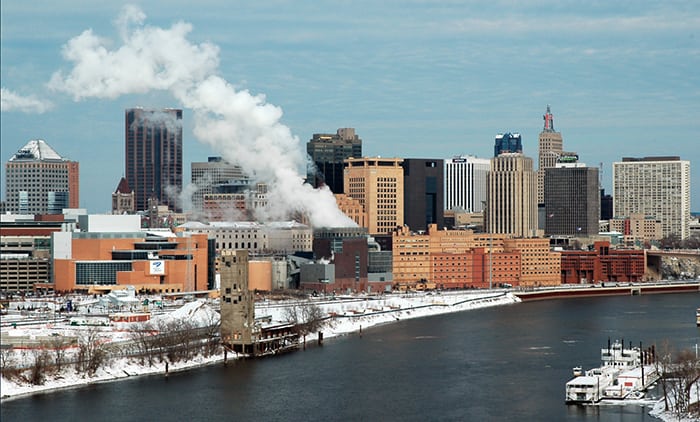 A brief taste of winter was scooped into our season's palate for a moment last week. It was good to feel this check of reality in today's atmosphere where reality is such an easy casualty of insane ambition and a pervasive willingness to accept entertainment as fact. It is no irony that the past month's weather reminds us of the discourse of the airwaves.
Maybe it is a few expressions, in words and on faces, we need rather than spin. It is harder to be unreal with an expression than it is with contrived propaganda. I guess that is why we need a few sips and bites of art this week, as much as ever. I've seen and heard a few expressions. This week is a little slower than others, as the holidays continue and the year comes to an end. As this train slows, I have some ideas about which cars we can hop on to.
The Almanacians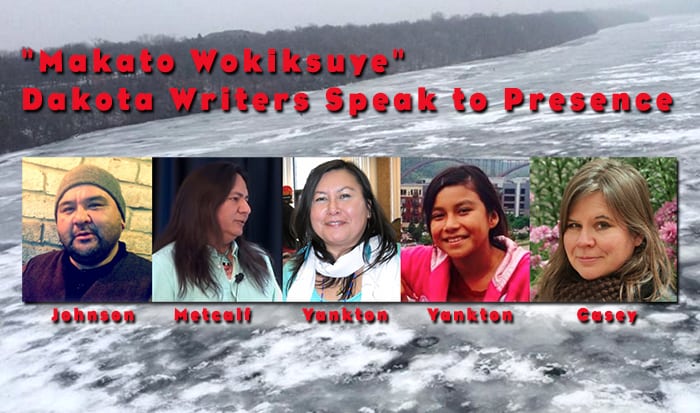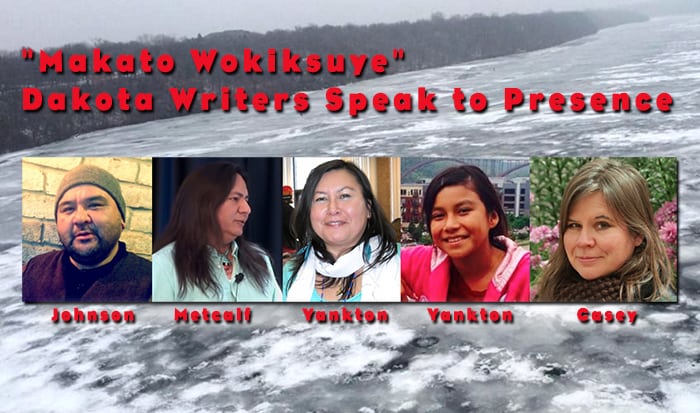 In Canada, the day after Christmas is called Boxing Day. Here, it is a day when you should head down to the Black Dog to see some expressions that are as long and strong as any trail of history. In the afternoon on Saturday, December 26, at 4 p.m., five artists remember their legacy—the Mankato 38, the Dakota men who were hanged 153 years ago in the largest mass execution in U.S. history.
The 38 men were hanged for their role in the Dakota U.S. War. The five writers will share their words of honor and remembrance on the anniversary of this Saturday's event, "Makato Wokiksuye" Dakota Writers Speak to Presence. Their words speak volumes against the erasure and misrepresentation of their forebears—a force against their removal from Minnesota lands.
This collection of artists includes Richard Merlin Johnson Jr., Nick "Cetanzi" Metcalf, Lisa J. Yankton, Alexa Yankton, and Colleen Casey.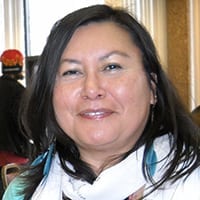 Lisa Yankton is a community editor at the Saint Paul Almanac, is a member of TGIFrybread Writers, and serves as a board member on The Circle newspaper. An award-winning poet, Lisa uses her writing and presence to create positive change, and her work was recently highlighted on PBS NewsHour. She is the mother of two lovely daughters and a member of the Spirit Lake Dakota.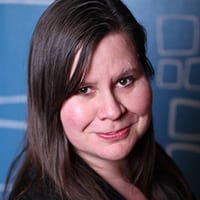 From Bdote and of Mdewakanton Dakota and European-American heritages, Colleen Casey considers herself a person of crosscurrents and confluences. Because of intermarriage and mixed-blood status, her Dakota forbears were among the estimated 3-5% of Dakota people who were allowed to stay in Mnisota after the U.S. Dakota War of 1862. Colleen is a teacher, artist, and community organizer who aspires to be the change she wishes to see in the world. She is delighted to be a community editor at the Saint Paul Almanac. She believes we are all related.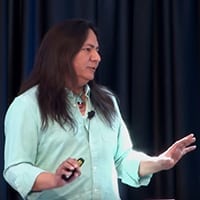 Nicholas "Cetanzi" Metcalf, MSW, is an enrolled member of the Rosebud Sioux Tribe in South Dakota, where he grew up. Nick attended the University of South Dakota and Augsburg College for a Master of Social Work in Family Therapy. Nick currently works for the Hennepin County Human Services Public Health Department. Nick is a poet and a columnist for The Circle newspaper. Nick is a proud parent.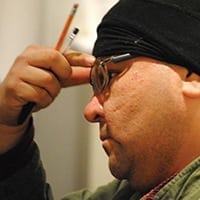 Richard Merlin Johnson Jr. is an Isanti Dakota registered with the Santee Sioux Tribe of Nebraska. His grandmother's grandfather, Grandpa Garvie, was four years old in 1862 when he was moved with his people from Fort Snelling to Nebraska, after the Dakota Sioux Conflict. Grandpa always told his family that he and his kin were direct descendents of the 38 Isanti hung in Mankato 153 years ago. In the 1960s, his father, Richard Sr., was one of the organizers of the Alcatraz occupation and director of the then-budding L.A. Indian Centers. His father's teachings and activism had a great impact on Richard's art, traditional values, and activism. Richard is a poet, writer, actor, painter, traditionalist, and activist. Richard Jr. is also Chumash Californian Native and Chicano from his mother's, Suzanne Johnson's, bloodline.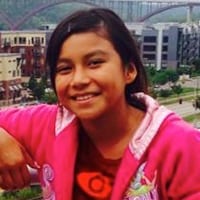 Alexa Yankton is a member of the Spirit Lake Dakota. She is in the eighth grade at DaVinci Academy. Alexa is a community editor at the Saint Paul Almanac, a playwright, and the author of "They Are Always Watching." She delights in hiking nature trails, traveling, and being with her family and friends. Alexa is a Pow Wow Princess and water carrier at ceremonials.
Be at the Black Dog Coffee and Wine Bar at 4 p.m., 308 East Prince Street in Lowertown. The event is free. Remember the 38.
What is the other thing you should do this week? A lot of us do holiday shopping. MinnPost's Pamela Espeland reminds us how great it is to gift books. In "13 Minnesota arts books," she highlights her picks for the year, two of which have St. Catherine University professor Pamela Fletcher as a senior editor. Of course, the first is Saint Paul Almanac: A Ten-Year Retrospective. Between the pages is our Saint Paul. It is full of the love and care with which we handle, cultivate, listen to, and compile the different voices in our community. This is not stories being told about Saint Paul. This IS Saint Paul.
Another pick with Fletcher's editorial leadership on Espeland's list is Blues Vision: African American Writing from Minnesota from the Minnesota Historical Society Press and the Minnesota Humanities Center. Espeland calls this a "unique and indispensable regional collection of poetry, essays and stories," which also contains many works and voices cultivated and highlighted in the work and publications of the Almanac. This is not Fletcher's first landmark work, and we know it is not the last time she will leave her mark.
Check out your local bookstore for your copy of these anthologies and other great works. You can also get your copy of the Almanac (and a copy or two of Roberta Avidor's super city map) here. There are a few days left. Get an Almanac for yourself, for some friends, and to keep in the house for guests.
Holiday

There are still opportunities to see Minnesota Jewish Theatre Company's The Chanukah Guest at the Highland Park Community Center (1978 Ford Parkway), The Snow Queen at Park Square Theatre (20 West Seventh Place), and The Best Christmas Pageant Ever at SteppingStone Theatre (55 North Victoria Street).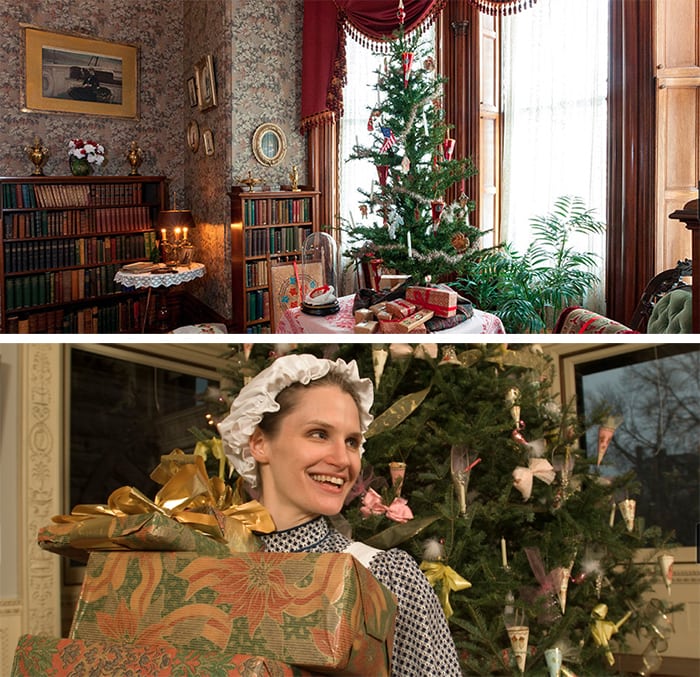 You could also check out one of the holiday tours. A Victorian Christmas at the Ramsey House starts every half hour from noon to 3:30 p.m. The 60-minute tour lets you experience the sights, sounds, and tastes of a Victorian Christmas in 1875. Tours are every Wednesday through Sunday until January 3, except on Friday, December 25. The Alexander Ramsey House is at 265 South Exchange Street. You can also enjoy a Gilded Age Christmas, brought to life by period-costumed actors preparing for the holidays in Hill House Holidays at the James J. Hill House. The script is based on letters and oral histories of people who worked for the Hill family during the first decade of the 20th century. You can see this enactment every half hour between 1 and 3:30 p.m. on Saturday, December 26, and Sunday, December 27. The James J. Hill House is at 240 Summit Avenue.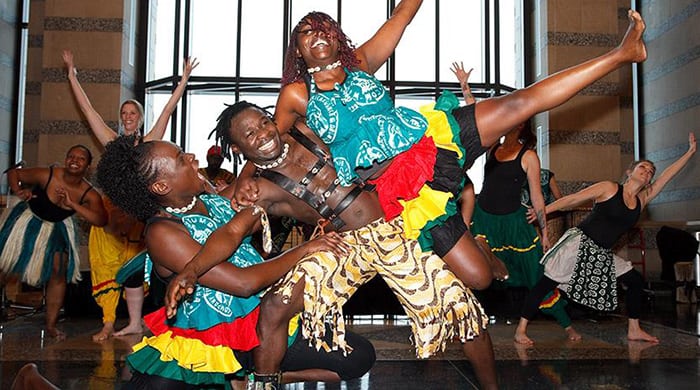 On Saturday, December 26, experience Kwanzaa Family Day at the Minnesota History Center. This annual family gathering focuses on the seven principles of Kwanzaa, from unity to faith, with engaging and educational activities like music, dancing, demonstrations, art making, and storytelling. Check here for tickets and the list of program events. Some of the activities include African Mask Making with sculptor Melvin R. Smith and painter Rose J. Smith, storytelling with Auntie Beverly (Cottman), and original spoken word poetry at pop-up locations throughout the building by the History Center's Teen Advisory Council. The History Center is at 345 West Kellogg Boulevard. Events run from noon until 4 p.m.
Music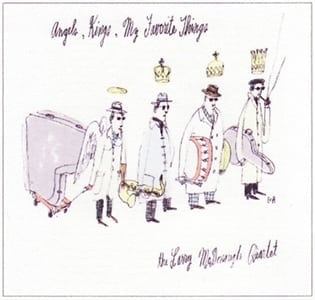 It is a slow week, but there is enough music to keep you out of the jingle rut. The party for Larry McDonough Quartet's holiday CD, Angels, Kings, My Favorite Things, promises a mix of Bill Evans, Dave Brubeck, John Coltrane, Ludwig van Beethoven, Mr. McGoo, Paul Simon, Ornette Coleman, Shakers, the Middle East, award-winning American poetry, and the art of international illustrator Eric Hanson. It sounds like more fun than anything. I am at least curious enough to wonder what Mr. McGoo sounds like musically. You can check it out for just $5 on Tuesday, December 22, at Bedlam Theatre. The show starts at 7 p.m. Bedlam is at 213 East Fourth Street.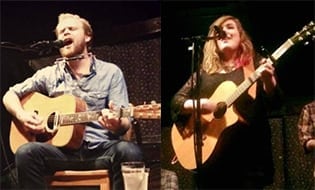 On Wednesday, December 23, check out Lee Henke & Rachel Hanson at Vieux Carre. This is a folk duo of singer/songwriters. Hanson, a transplant from northern Wisconsin, is said to deliver songs that carry you somewhere long ago but not so far away, while the word on Henke is that he pairs honest and meaningful lyrics with a rebellious rock attitude to deliver a passionate and soul-stirring performance. Their show starts at 6 p.m. Vieux Carre is at 408 St. Peter Street in Downtown.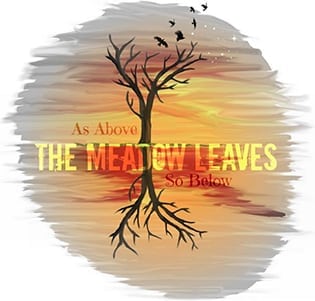 The Meadow Leaves is a new folk, alt, indie band that brings a twist of folklore into its performances. On Saturday afternoon, December 26, the band will be at Sidhe Brewing Company on the East Side for a live show. It is Justin Steinberg and Alexandria on vocals, Leilani doing "a Prince" on a host of instruments, and Justin Hartley on percussion. This show is also a benefit for one of Sidhe's besties, so show a little love. The Meadow Leaves are playing at 2 p.m. Sidhe Brewing is at 652 Jenks Avenue.

On Saturday, December 26, after "Makato Wokiksuye" Dakota Writers Speak to Presence, check out Saturday Night Jazz at the Black Dog with FRAMEWORK + 1. This collection features Chris Olson on guitar, Chris Bates on bass, Jay Epstein on drums, and a special guest who, for the moment, is a secret. Olson is a versatile virtuoso on the guitar and will help concoct a great sound for the evening. They start at 8:30 p.m. The group Iron Chops will open at 7 p.m.
The Starfolk's sound is self-described as "melody-rich chamber pop music." You can offer your own description on Sunday, December 27, when it takes the stage in this week's edition of the Music Under Glass series at the Como Conservatory. The band's strong lineup features Brian Tighe, whose ethereal melodies and superb guitar have led the heavy pop sound of the Hang Ups and backed acts like Jeremy Messersmith. Also featured are cellist Jacqueline Ultan, whose strong work has boosted projects like Jelloslave, Cherry Spoon Collective, and Saltee and who shined as part of the trio Little Lizard that backed Barbara Cohen in the 1990s; Allison LaBonne, formerly of the Owls and Typsy Panthre, on bass; and longtime Tighe collaborator Stephen Ittner on percussion. This free Sunday show starts at 4:30 p.m. The Conservatory is at 1225 Estabrook Drive.
I hope you are among the people who get at least one extra day off this week, regardless of what holiday you celebrate. Remember to spread some holiday spirit. Remember to check and share the Almanac arts and culture calendar. Remember, express yourself. Use your words. Have a great week.