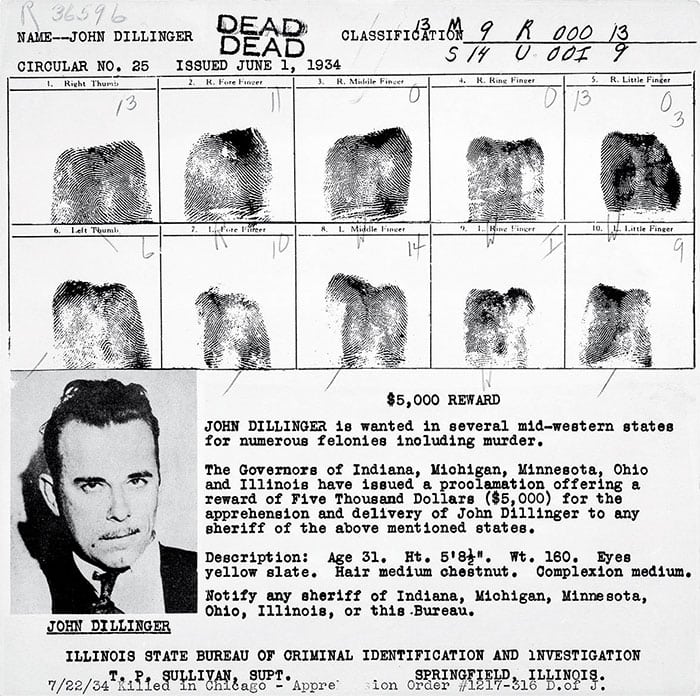 Doc Bozeman tried to concentrate on that bullet—black and glistening with blood—and not on the fact that it was lodged in John Dillinger's shoulder. Muscle and tissue gripped it like the gangster didn't want to give it up, and Bozeman maneuvered to get a grip with his forceps. Finally clanking the bullet onto a metal tray, he and Dillinger both breathed heavily—the gangster even letting out a laugh. "Why didn't we come here in the first place?" Dillinger yelled. "Eddie, what the hell were we messin' with May and that son-of-a-bitch Mortensen for?"
Eddie Green shrugged.
"Well . . . Bozeman ain't a real doc," Homer Van Meter finally fessed up. "Found him in Ohio, after you broke outta Lima. He took a bullet outta Sugarboy's leg."
"May was nowhere to be found," Dillinger growled. "Damn Mortensen claimed he had no medical bag. Doc, can you believe a doc who ain't got a medical bag at home?"
To be honest, Bozeman couldn't imagine a physician of Mortensen's stature not having some basic equipment in his house. "These stitches are gonna hurt," he said.
Dillinger laughed and winced. "I like this guy! He's all business. I'll take this doc any day. Even if he ain't a doc! Why ain't you a doc?"
"It's a long story," Bozeman said and, while sewing up Dillinger, told of being a medic in the Great War, his Distinguished Service Cross for taking a bullet out of a doctor, and his plans for medical school. "I got sidetracked when this guy pulled a knife on me in a boxcar. Claimed he killed the Lindbergh baby. Who was I to argue? Throws me off the train, drags me to a cliff, says he's gonna gut me and throw me over the edge. He's drunk and pissin' into the ravine and somehow falls in himself."
"With no help from you, huh?" Dillinger laughed. "Right . . . Guy won't even take credit for knockin' off the bastard who killed that Lindbergh baby?"
"He slipped and—"
"Them goddamn cowards. Give us all a bad name." Dillinger reached into his pocket, pulled out a wad of bills. "Empty your pockets, boys!" he said. "This guy's a goddamn hero!" Bozeman watched as Eddie Green and Homer Van Meter spread money all over the desk and Dillinger went on: "Even them damn Barkers had sense enough to release the guys they grabbed and save themselves from the chair."
"Last I heard the Barkers were leavin' Saint Paul." Bozeman slapped a bandage on the gangster's shoulder.
"Well, that's good news." Dillinger slid off the table. "They're gonna ruin the good deal we got here. Think this'll be enough dough to get you started on bein' a real doc?"
"Plenty. Thanks. But, uh . . . did I mention tampering with serial numbers on the ransom money? And I spent some of it. I doubt anyone's gonna look the other way about that. It's funny—I was hoping to somehow get in touch with Mortensen. Thought maybe he'd help, being a war veteran and all."
"Eddie!" Dillinger barked out the door. "Give this doc that Mortensen's number." He turned back to Bozeman. "You tell Mortensen, if he helps you out I won't kill 'm for not helpin' me out." With that, Dillinger and the boys were gone.
He never did return to get the stitches removed. Just as well . . . The Feds gunned down Eddie Green in front of a house on Rondo Street. In his deathbed delirium, Eddie let out that Dillinger could be found convalescing at Dr. May's clinic. An FBI raid found Dillinger gone, but they grabbed May—who then did a two-year stretch in Leavenworth.
Bozeman tried to contact Mortensen, but the doctor refused to speak to him; it seemed the FBI had been hounding the esteemed physician ever since the night Dillinger showed up at his door. No telling whether Dillinger would have made good on his promise to kill Mortensen; four months later, the gangster was set up by a lady in an orange dress and shot down by police outside a Chicago theater.
No one knew exactly who set up Homer Van Meter. He was gunned down in a blind alley just blocks from the State Capitol a few months later. The Saint Paul Daily News reported that Van Meter got off a few shots of his own while the authorities pumped fifty bullets into his body.
Nobody reported on Doc Bozeman filling up his medical bag and stuffing his pockets with money. Dillinger and the boys had set him up well.