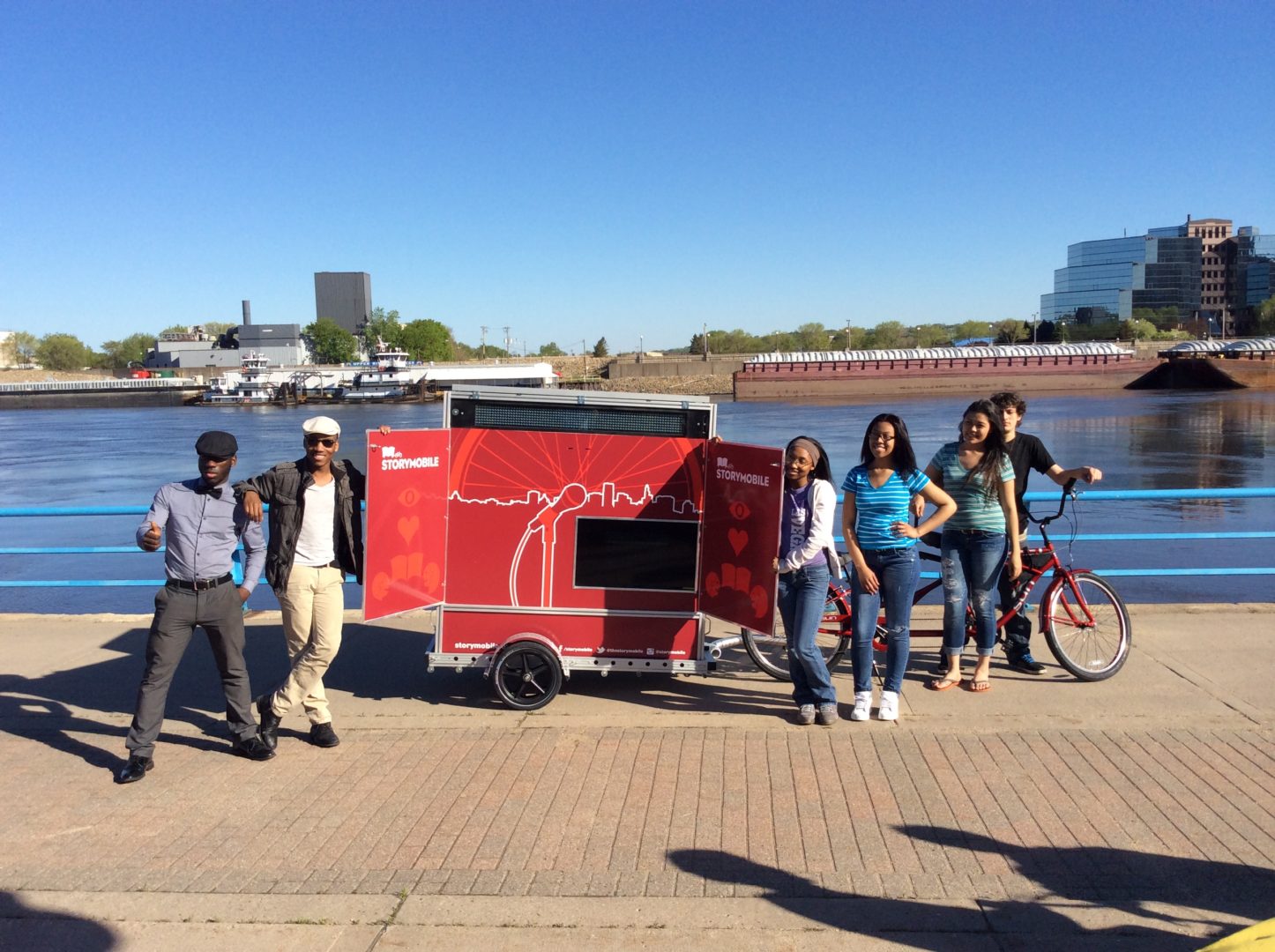 Storymobile is a moveable community engagement space that makes it easy to share, display, collect, and generate our stories. 
Look for this multimedia, solar-powered roving art space throughout the summer. This "stories on wheels" is on a bicycle trailer with ready tools—iPads, cameras, microphones, amps, and keyboards, as well as good old paper and pencil—to share and record your stories.
Visit Storymobile.org for more information.
---

Chief Cultural Producer of JXTA and Storymobile Lead Designer
Roger Cummings
Roger.Cummings@juxtaposition.org
Roger Cummings is the Chief Cultural Producer of JXTA a visual art and cultural Social Enterprise that trains and mentors youth and community members from Minneapolis Saint Paul.
Cummings activates relationships between space and place through art, design, independent livelihood, and collective social enterprise.
Cummings' work acknowledges, while at the same time, progresses the direction of urban visual expression. He aims to create works of art in public and private spaces that have personal and impersonal uses, in the hopes of enlivening meaningful, human interactions.
Urban architecture, design, and planning inform my work. In close examination of these influences, my work has taken the form of largescale sculptures, pocket parks, and functional enhancements to public space. The functionality of my work aims to incite in urban citizens' a lens through which they are able to see themselves included, represented, and civically engaged in establishing the visual identities of their neighborhood. In placing my work at the center of a critical dialogue, where art becomes a vehicle through which cooperative models of community engagement encourage social interactions in public space, my choice of materials have evolved. I have explored new ways of mixing an accessible medium like aerosol paint with steel, stone, recyclable found objects, and photo voltaic. I also have experimented with using tiles and fabric to extrude and create three-dimensional multi-media biomorphic structures that reference Hip Hop, urban design, and sustainability.
---
Program Director
Melvin Giles
Melvin@storymobile.org
Melvin Giles is a veteran peace, diversity, and dismantling racism educator and urban gardener/farmer. He has extensive experience working with youth, academia, government agencies, nonprofit agencies and neighborhood groups. He's received numerous awards for his social justice work including: 2003 Martin Luther King "Dream Keeper" Award, 2008 "Outstanding World Citizen" Award, and the 2011 Morrill Hall/Rachel Tilsen Social Justice Fund Award.
---
Professional writer and writing mentor
Pamela Fletcher
---
Executive Director
Kimberly Nightingale
kimberly@storymobile.org
---
Project Manager
Tio Aiken
tio@storymobile.org
---
Storymobile Manager
Darius Gray
darius@storymobile.org
---
Designer, Fabricator, Web Manager
Michael McColl
michael@saintpaulalmanac.org